What is Hyperloop?
Hyperloop is a technology to move people or things anywhere in the world quickly, safely, efficiently, on-demand and with minimal impact to the environment. The technology was reintroduced and updated by Elon Musk (Tesla and SpaceX). The system uses electric propulsion to accelerate a passenger or cargo vehicle through a tube in a low pressure environment. The autonomous vehicle levitates slightly above the track and glides at faster-than-airline speeds over long distances. Direct emissions, noise, delay, weather concerns and pilot error are eliminated. This could be a giant step in transportation.
Helsinki to Stockholm in less than 30 minutes
Hyperloop is no longer science fiction as Hyperloop is now aiming to demonstrate a full-scale, high-speed test of its track, vehicle and controlled-environment tube in late 2016 or early 2017. This bold vision may become reality thanks to a proposed Hyperloop link between the two capital cities which is estimated to bring annual savings of 321 million euros from the reduced travel time. The Hyperloop will also connect the city centers with the airports, a trip of 10 minutes. Todays travel options between the two capitals are about 3-4 hours by air, including airport tranfers and time spent at airport or an overnight cruise-ferry crossing.
These are the results of the world's first pre-feasibility study of a full-scale Hyperloop system produced by US-based technology specialist Hyperloop One, consultants KPMG and Finnish company FS Links. FS Links was founded a year ago to facilitate the building of a fixed link between the two Nordic countries. An entire region of 5 million people would become a metro network, lifting property values and productivity along the route.
According to FS Links, Hyperloop One is currently looking for a 'proof of operations' facility, with research centre and rails, and they have already decided it will be in Europe. Many places are competing for it, but Finland has the lead. FS Links have made the first actual business case and are also the first company Hyperloop has invested in."
Key to these plans is the Finnish city of Salo. The city, located 115 kilometres from Helsinki, has signed a 'letter of intent' with Hyperloop One to become the first test station along the proposed Helsinki-Stockholm route. Salo officials believe the super-fast connection would be a great opportunity for growth and new jobs in the high-tech city.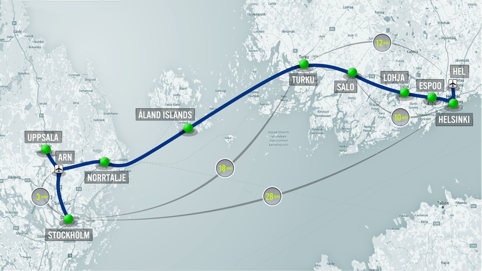 A Nordic metropol
The next steps in FS Links and Salo's plans are to find partners to fund the public-private initiative (the total cost is estimated to be 19 billion euros) and then secure a final agreement with Hyperloop One.
There are still many things that need to be solved. But the pre-feasibility study shows the connection between Stockholm and Helsinki is not impossible. The challenges appear to be funding and execution.
While the proposed Helsinki-Stockholm route could take 12-15 years to build, a fast way to transport goods would open up completely new business opportunities, while people could quickly and easily commute from one country to another.